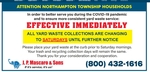 Trash and Recycling Policy
Trash / Recycling / Yard Waste Policy and Information
Question or Problem regarding Trash and Recycling in Northampton Township?
Email Whitetail at nhtwp@whitetaildisposal.com or Click here for more information.
Village Shires Dumping Policy
Do not use open space for any kind of dumping. Dumping of any kind on common ground includes yard waste, tree branches, leaves. Not complying is a category "C" violation of the Enforcement Procedures and carries a minimum $100 fine plus damages.